June 19, 2012
Topic: Reclaiming Alleys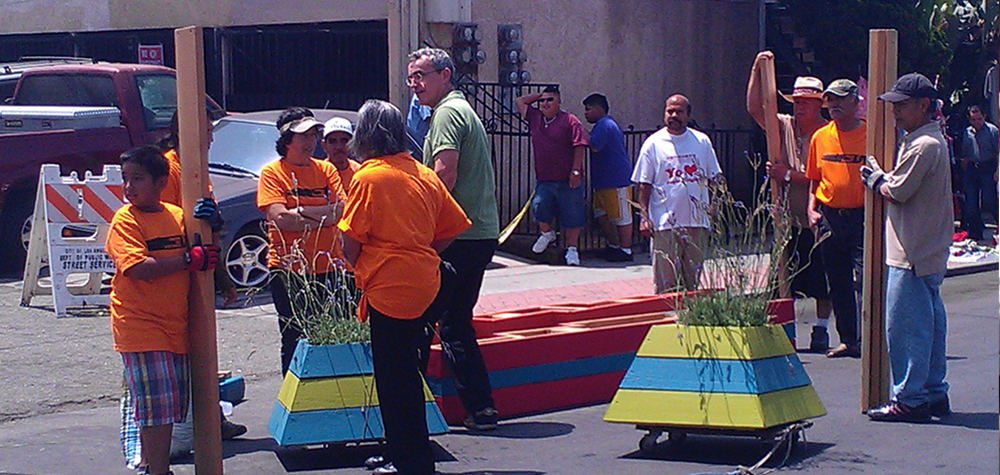 RECLAIMING STREETS AND ALLEYS IN BOYLE HEIGHTS
June 19, 2012
On Saturday, June 16th, hundreds of community members participated in the celebration of projects aimed at reclaiming, transforming, and improving streets and alleys in Boyle Heights. In 2003, community members from Union de Vecinos organized around the need for street improvements and increased safety for residents in Boyle Heights. Over the years we created Pedestrian Safe Zones, organized activities to transform public spaces, and worked with city officials to bring resources to make the streets safer and to change how public space was used. We have installed lighting in 43 alleys in Boyle Heights, organize montly mercaditos for vendors, organize movie nights, dances, and other activites in the alleys as part of a larger strategy to transform the conditions that create violance in the community. In the last 9 years, community members have moved from keeping their kids in their apartments and calling the police for extra patrol, to occupying the streets and alleys. Thier presence provides a role model for children in the neighborhood, develops relationships, and builds support networks.
In 2005, while working with Steve Cancian from Shared Spaces Landscape Architects, we installed the first community living room "sala publica" on Fickett and Cesar Chavez in Boyle Heights. The event on Saturday expanded this concept to Fickett Street. These projects install benches, tables, planters, and community bulletin boards to create spaces for community members to congregate, play, and relax.
"We want to keep working to see this plan through to have safe streets. We have been working for a stoplight at Fickett and Wabash to protect our kids. We hope for the support of the community to do more work and move this forward." said Maria Lopez, community resident and member of Union de Vecinos. Two blocks of Fickett St were closed on Saturday for the celebration. The community members who designed and built the benches processed them through the street while mariachis played. Councilman Jose Huizar was also present and spoke at the ceremony stating " that he loves this kind of environment." The celebration continued with the installation of the benches and planters, folkloric dances, singers, and live music. Over 50 local vendors also attended the event.