October 1, 2012
Topic: Public Housing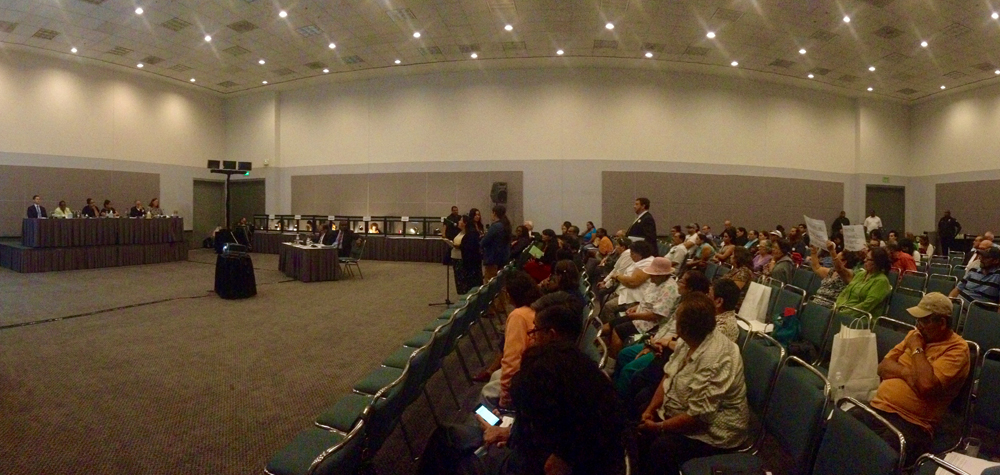 Union de Vecinos and the LA Right to Housing Collective Achieve Victory for Public Housing Residents
In an unprecedented move earlier today, the Housing Authority of the City of LA (HACLA) Board of Commissioners, led by Chair Mitch Kamin, voted unanimously to stand with the LA Right to Housing Collective declaring that HACLA staff had "no compelling rationale" to raise the flat rent on 414 public housing households by 3% for a 4th consecutive year.
As part of the Housing Authority's annual Agency Plan process, HACLA is obligated to release several versions of it's Agency Plan for the following year. In the first draft version, released in June, the Collective noticed that the Agency had planned to raise flat rents, paid by over 400 families living in LA's public housing communities, by another 3% for the fourth consecutive year. While the revenue increase to HACLA of only $56,000 would do very little to affect the bottom line of the agency's over $1 Billion annual budget, the consequences to the affected residents' bottom lines would have been devastating with a rent burden increase of an additional $17-$39 per month. Some residents are already paying $75 more per month since 2010 and the 2013 increase would have pushed them to $114 more per month as soon as next year. In a public comment letter addressed to the HACLA Commission, the Collective denounced this unfair rent increase. The Collective also took issue with several other policies outlined in the draft Agency Plan including proposed language that would have allowed Section 8 landlords to charge fees for guests and other things generally included in a non-Section 8 tenancy. Do to the diligence of Collective's Public Housing & Section 8 Residents in attending meetings and hearings and testifying at every step of the process, the HACLA 2013 Agency Plan will:
Not include flat rent increases for 2013!
Contain alternative language proposed by The Collective specifically prohibiting any kind of additional fees for Section 8 residents!
Although HACLA has already publicly stated that they will look into some of our other demands such as studying how to increase parking within the public housing communities and how to increase tenant participation in important decisions, we will continue to organize for the recognition of the human right to housing.
Because Housing is a Human Right!
The LA Human Right to Housing Collective's members includes the Los Angeles Community Action Network (LACAN), People Organized for Westside Renewal (POWER), Union de Vecinos as well as residents from over 7 HACLA public housing communities and legal support from the Legal Aid Foundation of Los Angeles (LAFLA).