January 21, 2012
Topic: Environment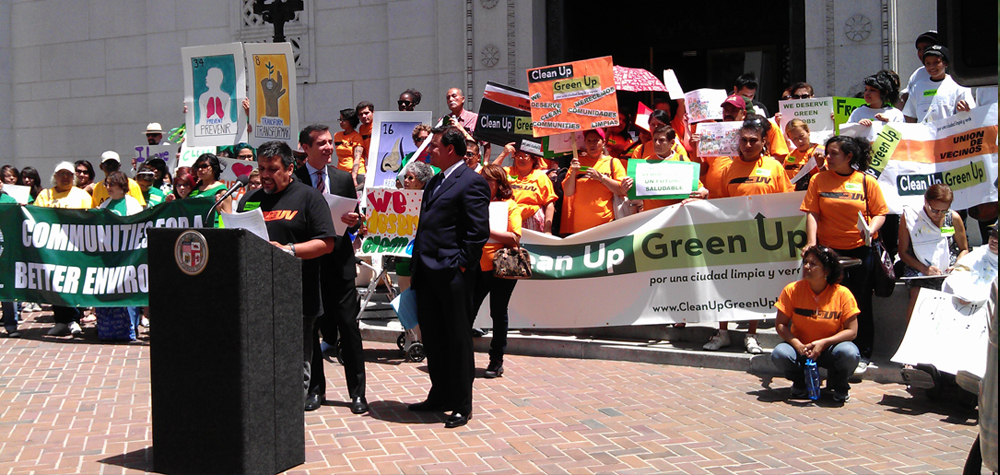 Saturday January 21st –  Union de Vecinos, ELACDC, Proyecto Pastoral, and Legacy LA had a community forum to learn and discuss Cumulative Impact and Air Quality issues in Boyle Heights.
Councilman Jose Huizar was present at the meeting and congratulated the people who came in spite of the rain to participate on the workshop. Huizar talked about improvements in Boyle Heights like the new schools and the metro Gold Line.  He also talked about the factors that impact air quality in Boyle Heights such as freeways and industry. The councilman talked about how the members of Clean Up Green Up (CUGU) have come up with a different approach to pollution in our community.  CUGU's proposal in Boyle Heights is to work with small businesses and the industries that have an impact on the environment to change their practices, improve their technology and follow regulations. Councilman Huizar thanked Union de Vecinos, Elacdc, Proyecto Pastoral, Liberty Hill Elva Yanez Don Spivack and the community for their work on this issue.
The Presenters were Hector Ornelas from the department of Public Health, Jorge Villanueva from ELACDC, Elizabeth Blaney from Union de Vecinos, Don Spivack from CUGU.  After the presentations, the participants got together in small groups to discuss what steps to take to implement policies and take steps in the community to reduce pollution and the cumulative impact that different industries have in Boyle Heights.