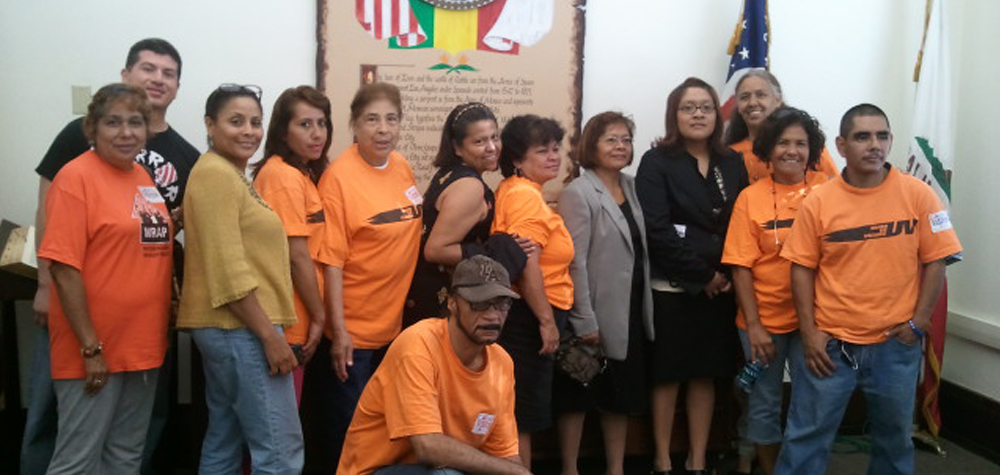 Union de Vecinos and the LA Right to Housing Collective celebrate the confirmation of the new resident HACLA Commissioner, Daisy Lopez.
Union de Vecinos and the LA Right to Housing Collective have been working with the Mayor's office since last December on cleaning up the HACLA board and providing new leadership to the Housing Authority of the City of Los Angeles. Last month we were able to put a two year hold HACLA's plans for the proposed conversion and elimination of public housing and yesterday we celebrated another victory in watching one of our community members and leaders be sworn in as a HACLA Commissioner!
Daisy Lopez has lived in Pico Aliso all her life. She served as secretary for the Pico Aliso RAC in 2006 before leaving to earn her college degree. She returned to her community and currently works as a Teachers Assistant. Her experience living through the demolition and reconstruction of Pico Aliso in the late 1990's provides her with a unique perspective that she brings to the HACLA Board. She looks forward to representing the interests of the residents.
Union de Vecinos and the LA Right to Housing Collective will continue to work for the preservation of public housing and to ensure that there are democratic processes and space for true and active community engagement in the policy decisions and practices that impact residents of public housing and Section 8.
The Los Angeles Right to Housing Collective is a coalition of organizations, including ¡Comunidad Presente!, Inquilinos Unidos, LA Community Action Network, POWER, SAJE, TRUST South LA, and Union de Vecinos. Our members consist of tenants, homeowners, immigrants, low income families, homeless people, seniors and youth from across Los Angeles, including East LA, Downtown, South Central, Venice, Koreatown, Pico Union, San Pedro, and the San Fernando Valley. We believe that affordable, decent, safe, and sanitary housing builds stable communities and that housing must be accessible to everyone.