November 30, 2010
Topic: Reclaiming Neighborhood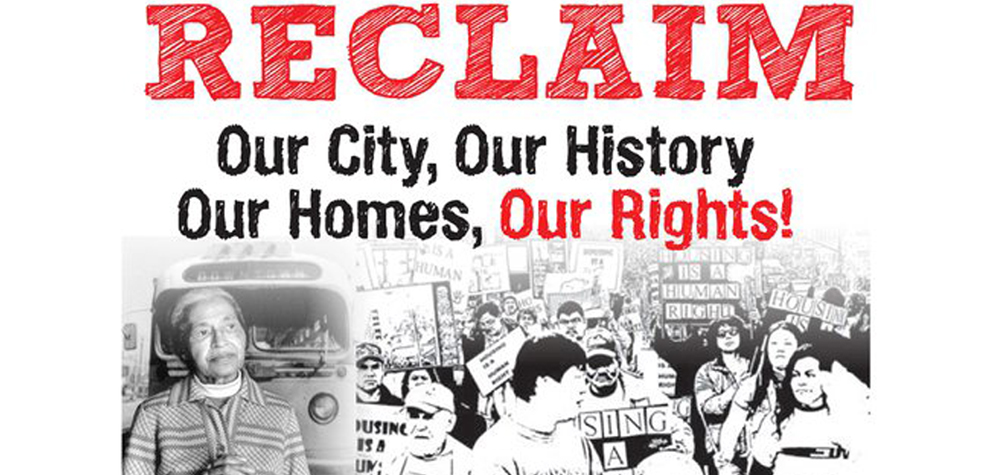 RECLAIM: OUR CITY, OUR HISTORY MARCH & CONCERT
MTA Headquarters (One Gateway Plaza, behind Union Station)
December 1st, 2010 3pm
Top 10 reasons to come out and support the BRU & LA Human Right to Housing Collective March & Concert on December 1st:
#10 Fight against War, Militarism and Racism. The Pentagon's base budget is $549 billion plus another $159 billion to fund U.S. military missions in Iraq, Afghanistan and Pakistan. $80 billion of it alone is used to spy on you and the rest of the world.Locally, approximately 40% of the City of Los Angeles general funds go to fund the LAPD at $1.2 billion annually.Yet, 1,000 city workers have been furloughed, hundreds of positions have been eliminated, libraries are closed and LADOT services cut, all the while Mayor Villaraigosa and the City Council refuse to slow down LAPD expansion.We want an end to war on our communities and poor people around the world.
#9 California is appealing a 2009 federal judicial order to the U.S. Supreme Court to reduce the prison population by more than 40,000. California locks up many prisoners for repeat petty offenses or for technical parole violations. Thestate of California spends close to $10 billion annually to lock up Black and Brown bodies, yet Cal State, UC and Community College students are hit with fee and tuition hikes.We Demand Education, Not Incarceration!
#8 The right-wing, anti-Immigrant forces in California are already collecting signatures to revive Prop 187 and model a proposition after Arizona's racist SB1070. While we are prepared to fight this attack on our communities, let us be clear that LA County Supervisors and LA Sheriff Lee Baca are following in the footsteps of Maricopa County's anti- immigrant Sheriff Arpaio, by profiling immigrants into LA County jails.LA County Repeal 287(g) and Secure Communities.Full Rights for Immigrants!
#7 LA Housing Authority director Rudolf Montiel moved to evict nine public housing tenants/advocates for defending public housing. Public housing is being shut-down and now we have protestors being threatened to be kicked out of their homes for exercising their right to protest and dissent.Preservation and Expansion of Public Housing, Moratorium on all Rental Increases – NOW! Stricter Enforcement of Rental Repairs, Housing is a Human Rights!
#6 Public education and schools in Los Angeles are being siphoned off to the highest bidders, all the while criminalizing thousands of students and their families. You know something is wrong when 40,000 LAUSD students have been ticketed over the past five years, on their way to school under day-time curfew policies; LAPD and LASPD puts check points in-front of schools to catch tardy students. LA County gives out over 120,000 tickets to youth every year for everything under the sun– the criminalization of our youth and their education is a disgrace and denial of a fundamental right to learn. LAUSD end the Pre-Prisoning of Youth.Counselors, Not Cops!
#5 MTA's budget grows by a $1 billion and yet they move to raise fares by 20%, cut bus service and undo critical civil rights court orders under the BRU/MTA Consent Decree. Mayor Villaraigosa and company now want a $10 billion loan from the Federal government to dig a $6 billion hole to the Westside and trainwreck the civil rights of half million riders of color. Transportation is Human Right!1,000 More Buses, .50-cent fares and a $20 monthly bus pass & 1,000 less police!
#4 L.A. City Attorney Carmen Trutanich End Your War on the Movement. LA bus riders, housing advocates, immigrants and labor activists are all under the watchful eye of LA City Attorney Trutanich who wants to criminalize public dissent and throw everything and the kitchen sink against all these groups. Stop the Repression of the Movement.
#3 Multi-racial, multi-generational, multi-gendered, multi-lingual, multi-issue convergence of organizations, leaders and performers coming together to RECLAIM our city and our history of struggle and resistance. The coming together of different communities and neighborhoods to reclaim, our city, streets, education, homes, transit, voices, bodies and plane is historic and you don't wanna miss itt!! Our Streets, Our Rights!
#2 Police Violence and Zero Justice on the Rise.Mesherle gets the lightest sentencing for the murder of Oscar Grant. Steven Washington, Manuel Jamines, James Davis were all homicide victims of the LAPD.We want justice and full investigation for all those
#1 55th Anniversary of Montgomery Bus Boycott.  The Montgomery Bus Boycott was a year-long campaign where the entire Black community sustained the Bus Boycott through weekly meetings, a coordianted community car ride service, organized protest, holding press conferences, pressuring local, state and federal officials. The Montgomery Improvement Association (the forefront organization during the bus boycott) fought for more than a seat up front in 1955-1956. Leaders demanded Black bus drivers, more bus stops in Black neighborhoods, and the elimination of the practice of forcing Black riders to pay at the front of the bus but enter through the back door. To RECLAIM our civil rights history and legacy we will march on December 1st.