November 4, 2014
Topic: Public Land Use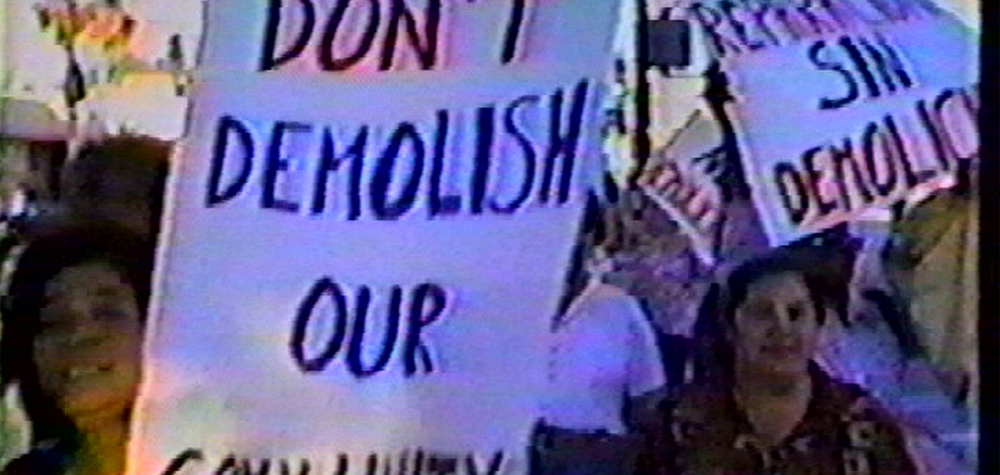 PEOPLE'S PROCLAMATION FOR USE OF PUBLIC LAND IN BOYLE HEIGHTS
DECLARATION FOR USE OF PUBLIC LAND IN BOYLE HEIGHTS
Whereas, over 3 billion dollars of public money were used to displace over 2,000 families  in Boyle Heights through redevelopment projects.
Whereas, these public projects demolished rent controlled affordable housing and public housing throughout Boyle Heights without one for one replacement.
Whereas, the families displaced left the community, lost their housing without a right of return,  and lost their social and institutional support networks.
Whereas, these projects discriminated against the majority of the community who live and work in Boyle Heights.
Whereas, these projects took away much needed services in the community such as access to parks, living streets and safe alleys and streets and created, or worsened,  unsafe traffic conditions  for the large pedestrian community of Boyle Heights.
Whereas, these projects did not respond to the local transportation needs of the community, especially seniors and handicapped who need transport to local services and bus riders who have lost access to transportation due to reduced bus lines and increase in fares without any support or subsidies to support those in need.
Whereas, these projects created empty lots and underutilized spaces that are fenced in, unused, and are not accessible to the local community despite community efforts to utilize these spaces for community benefit.
Whereas, proposals have been developed without a truly open, participatory, and  consultative process that allows local residents to determine the full use of the vacant lots and underutilized spaces.
Whereas, the government agencies who own the land are public entities supported with tax dollars and through their redevelopment projects have created a transportation crisis and housing crisis for extremely low and very low income people.
WE RESOLVE THAT
That government agencies, specifically the MTA and former CRA,  should return to the community the land they took and no longer need for the development of their projects.
The community shall develop and control this land to ensure:
a portion of this land has to be immediately assigned as green public recreation space accessible to the communities that surround it
a significant portion, of this land has to be assigned and be fully subsidized  as housing for extremely low income families who require access to public transit
THE MTA and other public agencies that took over this land will provide the resources, technical material , and otherwise to make the proposals developed by community members viable in the local communities
All these assets and projects should be directed and benefiting the most poor and the people who have been displaced, lost their jobs, or impacted negatively as a results of these projects.
These resources shall be managed in a participatory manner by local stakeholders and people affected by these projects
The MTA shall turn over the station properties to local community boards to create programs and projects that benefit the local community at the social, economic and cultural level
providing spaces for
street vending
cultural celebration
recreation
fitness activities
embellishment
7.   The MTA together with all the agencies that created these damages will create a fund to support and make all these projects viable
8.   For all future redevelopment projects:
MTA will ensure the right of return for all residents impacted for future projects
MTA will minimize/eliminate the forced displacement of very low income people from their communities
The MTA create a local mini transportation service to serve the local senior and handicapped community
MTA will create a fund to do repairs and services for the local communities that address the need for living streets and that increase safety and access for the local pedestrian residential communities
These resources shall be managed in a participatory manner by community members and people affected by these projects
– See more at: http://wordpress.uniondevecinos.org/#sthash.SBnoLeJM.dpuf