November 25, 2013
Topic: Environment & Community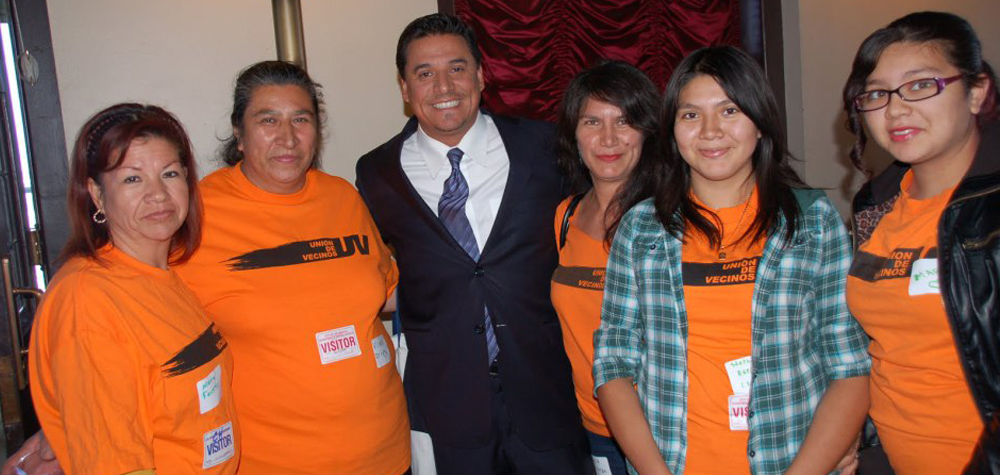 Clean Up Green Up LA on Track to Become Official City of Los Angeles Policy
Happy Thanksgiving! It's been a while since you have heard from the Clean Up Green Up initiative—the policy that would establish Green Zones in three LA toxic hotspot neighborhoods to reduce and prevent pollution and support economic revitalization.
The latest news: we are on the way to a Clean Up Green Up policy crafted by the City of LA Department of Planning for full council consideration in 2014. Meanwhile, the Clean Up Green Up LA organizing team has been working in local neighborhoods to engage residents and businesses to support this innovative measure to strengthen and support healthy LA neighborhoods.
Clean Up Green Up LA celebrated a victory at City Hall over the summer when City Council voted to fund the nuts-and-bolts development of a policy concept that four community groups have envisioned to reduce pollution in the neighborhoods of Boyle Heights, Pacoima and Wilmington—all low-income, heavily polluted areas.
The Clean Up Green Up measure enjoys support from Councilmember Jose Huizar, who represents Boyle Heights and introduced the initial measure, as well as Councilmember Joe Buscaino, whose district includes Wilmington and who pledged to stand with his colleagues in backing the concept. Recently, elected Councilmember Nury Martinez, whose district includes parts of Pacoima, is a staunch supporter.
In September the Clean Up Green Up LA campaign passed another two milestones.
The first: the City authorized the Planning Department to accept a grant of $100,000 from the Liberty Hill Foundation for a new Clean Up Green Up Trust Fund to support salaries and other costs associated with creating a policy.
The other break-through: a special city committee made up of representatives from the Mayor's office, the City planning department and several City Council offices officially approved a staff position devoted to work on Clean Up Green Up.
As we turn the corner into 2014 we expect City Hall planners to soon begin work on a draft of a Clean Up Green Up policy for consideration by the Los Angeles City Council. Researchers and the community groups that make up the LA Collaborative for Environmental Health and Justice have provided a thoughtful road map of a policy that would clean up and support three communities beset by high pollution levels.
There will be many opportunities for public review before Clean Up Green Up goes to City Council—each a moment to share and discuss the best ways to improve local environmental and economic health.
Clean Up Green Up–Building Local Business As Part of Building Healthy Communities
Businesses turned out in the northeast San Fernando Valley on October 24th at the headquarters of Pacoima Beautiful, one of the four community organizations promoting a Clean Up Green Up LA policy. Pacoima Beautiful, in collaboration with the Liberty Hill Foundation, organized the informational Guide to Green workshop to walk environmentally-minded business owners through the resources available to support efforts to "green up." Representatives of the Southern California Air Quality Management District, the California Department of Toxic Substances Control, the City of Los Angeles Economic and Workforce Development Department along with the Los Angeles Department of Water and Power, the Valley Economic Development Center, and the Los Angeles Green Business Certification program were there to make presentations and outreach to local Pacoima and Sun Valley businesses that want to "green up" and make operations more cost-effective.
Councilmember Felipe Fuentes made introductory remarks.
The workshop illustrated an important facet of the Clean up Green Up proposal: the policy would create Green Zones in the three pilot areas where Clean Up Green Up would initially go into effect, then concentrate support for local businesses in those Green Zones. That means an ombudsman office where businesses can go for help to figure out how to find financial resources to help them "green up" and operate more efficiently as well as find help to navigate environmental regulations.
Organizers from community groups that work in Wilmington–Coalition For a Safe Environment and Communities for a Better Environment, as well as Union de Vecinos in Boyle Heights, are planning similar workshops and getting geared up for a busy January 2014 to push Clean Up Green Up across the finish line.