May 13, 2010
Topic: Street Vendors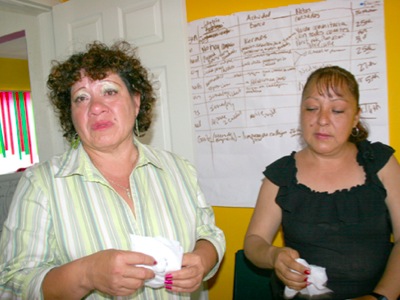 "We Were Treated Like Common Criminals…"
Boyle Heights' street vendors open up about the hard times they are going through without job prospects and after being arrested for selling food without a license.
By Gloria Angelina Castillo, EGP Staff Writer
Teresa Perez and Alberta Perez Luna's problems began just two hours after they started selling food in front of the Payless Store on Cesar Chavez and Soto in Boyle Heights; a favorite early morning spot for food vendors.
At 6 a.m. on April 30— just as Perez Luna's granddaughters walked up to get their daily tamale and champurrado on the way to their nearby elementary school—the two women were arrested for selling food without a license.
"The girls begged the officers not to take me and they held onto the officer as they cried. As it is, they were already terrified of the police…" Perez Luna told EGP in an interview coordinated by Union de Vecinos.
The Hollenbeck police officer, who the women said is Latino, told the girls, "Don't worry… sometimes adults do bad things that look like they are good… I'm going to take her for a ride and I'll bring her right back. Don't worry, I'm just going to take her to get fingerprinted, and for a few photos…" Perez Luna recalled the officer telling her 8- and 9-year-old granddaughters.
The immigrant from Amatlan de las Cañas in Nayarit, Mexico, says the girls were traumatized by her arrest for 'doing nothing wrong.'
To make matters worse, Perez Luna is in the process of obtaining her residency and says the recent arrest gives her reason to believe that her dream of getting a Green Card may no longer be possible and that she will be deported.
"Because the economy is so bad, people right now are just trying to do something to survive," Union de Vecinos organizer Alma Saucedo told EGP.
She says the officers are criminalizing people who are just working hard to get ahead.
"Teresa is about to get her eviction notice. Why? Because the police doesn't let her work like before. And Mrs. Alberta, the same thing is happening to her," Saucedo said.
Pérez, who was once a street vendor in Guadalajara, Mexico, says she has been selling food on the street for only a few months, since she has not been getting much work from an agency that sends her to jobs cleaning houses.
"They treated us like common criminals," Perez said about the arrest. Both women said they were never warned or issued a ticket before being arrested.
"I was in shock, I couldn't even cry, I couldn't… nothing, nothing. I was very scared because I thought they gave you a ticket or a warning, not that they just dropped in and arrested you," she said, recounting how being searched on the spot while handcuffed by the male officer, took her by surprise.
Perez said they are not hurting anyone and are usually gone before the surrounding businesses even open. They are being targeted because people say the businesses pay taxes and they don't, said Perez.
King Taco, a chain of Mexican food restaurants, is located across the street from where the women were arrested. According to their website, they open at 8:30 a.m.
The arresting officer handcuffed them for show, the women told EGP.
"Look, take a look, this is what is going to happen to anyone who has the courage to sell on the street," Perez Luna said the officer told passers-by and other street vendors who were at the same spot but not arrested or ticketed.
The officers signaled to people to come over and take the food they were selling, they said.
The officers' actions bothered Saucedo, who wants to know what the point of the law is.
"So they are removing people because they don't have permission to sell—it's illegal for street vendors to sell because it's supposed to be an issue of health regulations," Saucedo said. "So, I wonder, if you give it away free of charge, won't the people get sick just the same as if they paid for it? What are they looking out for, public health or that no sales take place outdoors?"
Pérez's arm was injured a year ago in an accident and she says putting her in handcuffs caused her a lot of pain.
"He put my arm way back and I told him it's too tight, loosen it because I get Cortisone [injections]—he turned and told me 'I get it too,'" she said, noting that her arm was throbbing all the way to the jail.
Perez Luna said although he responded mockingly to Perez, the officer did loosen her own handcuffs.
After being detained at Hollenbeck for a short time, the women were then taken to the jail at 77th and Broadway where they say they were pushed around.
"An officer grabbed us from behind and pushed us, paz! He threw us," Perez Luna said.
The arresting officer even threatened to turn them over to immigration, they told EGP.
"'You know, right now I can take you to immigration. Thank God that I didn't confiscate your money, that I allowed you to keep your bags," Perez Luna said the officer told them.
They said they were not given their citation until they were at the 77th Street jail and Perez says she is still upset that her citation says "illegal sales" instead of "selling food;" and Perez Luna says her citation falsely states she was selling alcohol.
"I was selling tamales, oatmeal, burritos, champurrado and gorditas," Perez Luna insisted.
Her demand to have the charge on her ticket changed was ignored.
"'Don't worry, this won't affect you, the code includes what you were doing,'" Perez Luna said she was told.
Hollenbeck Division Police Captain Anita Ortega defended her officers, saying that police policy does not require the officer to issue a warning before fining or arresting a street vendor, and there is no policy about what can be done with the food they are selling.
"You know they cannot do this, without permits, they cannot do this without making sure the Health Department is on board, and the impact it has on the community—you have restaurants that are there with permits and so forth, they have the proper equipment, they have sinks, they have restrooms and then you have people on the streets that are vending illegally and it's against the law. And now basically what the officers are doing is enforcing the codes," Ortega said.
She says she has received numerous complaints from business owners and residents, who say the street vendors are drawing too many people who leave behind their trash and make it difficult to park when they are around.
But it was the women's charge that the officer had used excessive force and that the citation issued may have been wrong, that most concerned Ortega.  She invited the women to file their complaints with the station's watch commander.
"If their cuffs are too tight and they've asked to have the cuffs loosened, that's something we should be able to do without a problem," said Ortega to EGP. "If there was no alcohol sold and that's what's indicated in her citation, it needs to be corrected, it needs to be changed."
Ortega said she would welcome speaking to the women about their allegations against the officer assigned to Hollenbeck.
EGP's public document request for records pertaining to any other complaints that may have been filed against the officer were denied by the LAPD's Discovery Unit. David Lee, a spokesperson for the LAPD, said complaints are kept in the officer's personnel file, and in California, those files are confidential.
In response to EGP's request to interview the arresting officer, Ortega said she would want to present, again noting that she would first like to speak to the women.
The women are scheduled to appear in court at the end of the month, and are worried about what will happen to them.
They say they have not been well since their arrest, and showed EGP a rash they said is fungus that they believe they contracted from the patrol car. They say they are very depressed, that they cannot find work and are afraid to go back to selling food on the street.
"I feel like they cut-off my wings. And now with this complicating my Green Card application, I had hope things would be different…" Perez Luna said, with tears streaming down her cheeks. Her husband was able to pay this month's rent but without her income from selling food, they have no money to feed themselves, she said.
"I wasn't doing anything wrong that would hurt my people. I consider myself a hardworking, determined woman, and I consider myself a human being who wants to work hard without fear… I don't want to be a burden to anybody. I don't like people to see my pain, I always hide by pain, but now, I'm really feeling bad," Perez Luna said.