June 19, 2017
Gentrification Conflict Brews Over New Boyle Heights Coffee Shop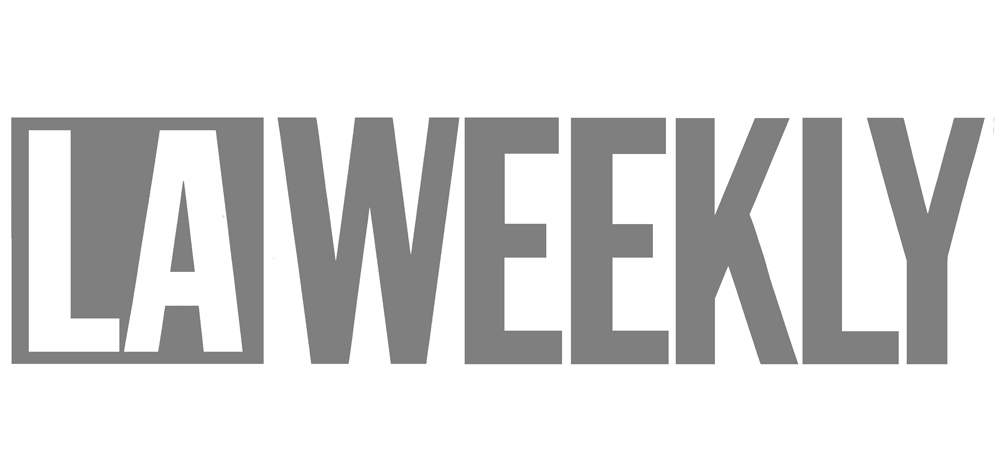 A coffee shop that opened last week on a busy commercial strip in Boyle Heights has prompted days of protest from groups opposed to it as a symbol of creeping gentrification in the neighborhood. A crowd of activists set up a picket line at the entrance to the shop on Thursday, urging would-be customers not to enter and taunting those who did with words like "sellout," "colonist" and "collaborator." They have returned every day since.
Weird Wave Coffee occupies a narrow storefront space and offers iced lattes, almond croissants, sourdough BLTs and the typical gourmet-variety coffee shop fare that many Angelenos take for granted. But the shop is conspicuous on East Cesar E Chavez Avenue, on a block that includes a 24-hour pawn shop and a check-cashing and loans agency.
Similar to last year's "artwashing" protests against new art galleries in Boyle Heights, the demonstrators regard the presence of the new coffee shop as a harbinger of coming threats to affordable housing for low-income families in the largely working-class and Mexican neighborhood. Some say Boyle Heights could experience the same redevelopment boom that transformed its neighbor, downtown's Arts District, from a deteriorating industrial zone to one of the most desirable and costly rental markets in the city.
Defa says he was aware of the previous wave of protests against art galleries in Boyle Heights but that when he and his partners were renovating the shop they didn't expect they would come to represent a "symptom."
"We looked around, we talked to the neighbors, they were friendly, and so we decided to go for it," he says. "Is there a demand? Yes. Let's supply that demand."
He says of the protest: "It's been jarring for me. I'm not afraid of protesting, but it started edging on violence. There was a distinct hatred in the air."
Schwarz says the protests have brought free publicity and attracted customers from as far away as Glendale and West Adams. On Saturday, he says, with 20 picketers outside, they ran out of bread, pastries and coffee. "I feel welcomed," Schwarz says. "I don't feel [the protesters] represent the local community — I don't think they speak for them."
One of the shop's customers, Steven Gontarski, lives in Boyle Heights with his elderly mother, in a house he bought four years ago. Gontarski, who works in retail downtown, says he identifies with some of what the protesters are saying, "but the way they're going about it, I don't. It's shutting down dialogue; that's why I'm coming back here every day."
Alexander Martin, manager of a mobile phone store on Cesar Chavez, says the coffee shop may be a convenient scapegoat for rising tension in the neighborhood after a rash of immigration arrests. A local resident, who gave his name only as "Luganja," held a sign over his head: "Stop being a dick. It's ONLY coffee!"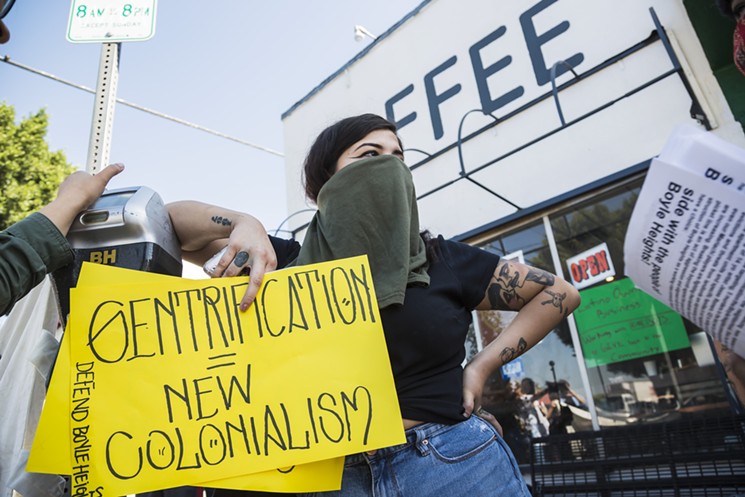 Manuel and Mariana Sanchez, a married couple from Mexico who have lived in Boyle Heights for 15 years, stopped to watch the protest from across the street. "We're working people making the minimum, of course it's affecting us," Manuel Sanchez says of the rise in the cost of living. "If only the wealthy are going to be able to move here, it's not good."
Mariana Sanchez said: "We know people in the neighborhood who've had to leave because they can't afford the rent increase."
Standing in the cool of the shade a few steps away, a Boyle Heights native named José Martinez shook his head. "I just don't get why you protest a small business," Martinez said.
Defa, the co-owner of the shop, says that as a result of the protests the owners have sought out ways to engage with the community. He says they are partnering with Homeboy Industries to supply the shop's bread and pastries, that they are buying fruit and vegetables from a street vendor in the neighborhood, and they plan to start a job-training program to teach barista skills to local youth.
"These guys did make us take a step back and ask what we were doing for the community and can we do more," Defa says.
Outside the coffee shop, Inés and other protesters said Weird Wave Coffee has to close its doors in Boyle Heights — that no other alternative will be acceptable. A pair of activists faced the window of the shop holding a banner with the word fuera, or "out," painted in all caps.
The activists say they plan to continue protesting Weird Wave Coffee indefinitely.