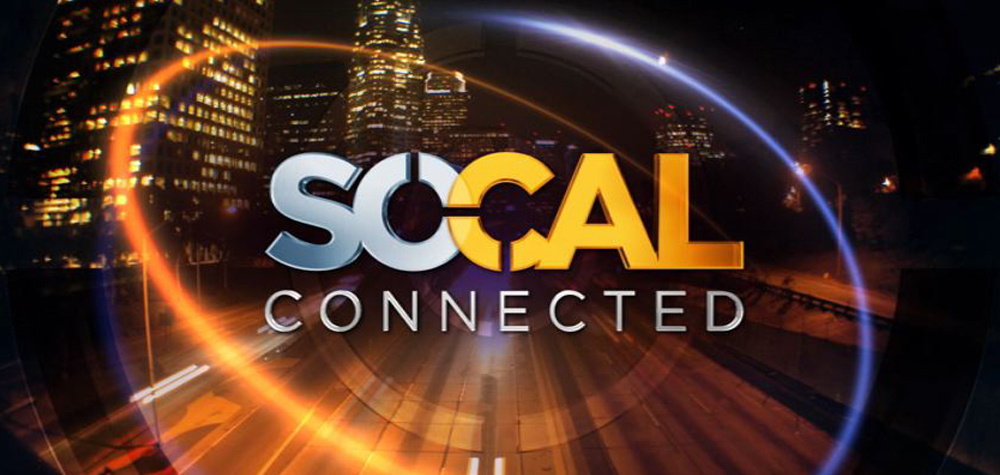 We take a look at something so basic, you probably don't even think about it — the air we breathe. But as you're about to see, not all air is equal, and one group of Angelenos is hit particularly hard by pollution. Is there anything they can do about it? Correspondent Vince Gonzales takes us to one neighborhood where just breathing can be hazardous to your health.
TRANSCRIPT:
Vince Gonzales: Every morning, like thousands of other Los Angeles parents, Marta Arango walks her children to school. Along the way, they pass an auto upholsterer, a car wash and lots of traffic. The school, Soto Street Elementary, is about 200 feet from the freeways. That's typical in Boyle Heights, a working class, mostly Latino neighborhood, ringed by highways, that Marta calls "home." But the everyday sights of Boyle Heights – railroads, auto repair shops, light industry, and of course, all of those cars and trucks – even if they're in compliance with pollution standards, can still add up to big trouble for residents.
Manuel Pastor/USC Professor: When you put them all clustered together in one neighborhood, you really wind up with sort of a toxic soup.
Gonzales: Manuel Pastor is a professor and the Director of the Program for Regional Equity at the University of Southern California. He studied the distribution of air pollution in Los Angeles and surrounding areas and says regulators should be looking at people's cumulative exposure to toxins by taking into account the entire neighborhood.
Pastor: What "cumulative exposure" means, technically, is the idea that you don't just have exposure to a freeway. You may also be near a paint factory; you may also be near a series of unregulated auto body shops. But when you begin to add them up and add them up and add them up, you wind up with a lot of overexposure and sometimes synergistic or interactive effects. And there's a lot of concern about this in terms of human health.
Marta Arango [to children]: I love you so much. God bless you, okay.
Gonzales: Marta agrees. She's concerned about the air her children breathe, especially her older son, who has asthma.
Arango [dubbed]: I know that all the contaminants around here affect our health.
Gonzales [to Leonardo Vilchis]: So, when you were doing your walks, what did you find?
Gonzales: So Pastor and other researchers have teamed up with people like Leonardo Vilchis, a community organizer. Through a process called "ground truthing," residents create a detailed picture of the health hazards in Boyle Heights and other low-income neighborhoods.
Leonardo Vilchis/Community Organizer: What we did in our community was, basically, groups of people got together and made a list of all the places people gathered to, you know, socialize, and we identified places where seniors gather, youth gather, small kids, adults, and then, right next to it, also make a list of the businesses around those areas.
Gonzales: Residents looked at goverment data on pollution sources, then they compared it to what they actually saw in their neighborhood. They found a lot more sources, and they were also much closer to so-called "sensitive areas," such as schools, day cares and senior centers, than experts believe is healthy. University researchers verified their new data.
Gonzales [to Vilchis]: What was the truth you found on the ground?
Vilchis: Basically, the sites that we identified didn't coincide with the maps or lists that state and federal government gives us. When you go to the website or look at these maps, you identify two or three or five different points on the map that are contaminated in the area. But when you look at the map created by the community, you find 10, 20, 30 more points that are very important.
Gonzales: So a mattress maker operates in the same building as a storefront church. Public housing sits across the street from industrial sites, and houses and small manufacturers sit side by side.
Pastor: There's a real problem with locational inaccuracy. That is, the government thinks they're in one place, and sometimes they're a thousand feet away. If you've got the location inaccurate in state databases, that's really a problem for planning.
Gonzales: And the ground truthing teams found that about half the time, air pollution levels in Boyle Heights are higher than recommended state levels. And six schools in Boyle Heights are closer than the recommended distance of 500 feet from major highways.
Andrea Hricko/USC Professor: If you are growing up in an environment like Boyle Heights, where there's a lot of particulate matter, you may be more likely to develop asthma or reduced lung function.
Gonzales: USC scientists have found exposure to air pollution can lead to lifelong health problems for children.
Hricko: Some of the concerns we have about ultrafine particles are that they are the tiniest particles that come out of diesel exhaust or out of car exhaust, and you can actually breathe them in and they can get into your lungs, and then from your lungs it can get to other parts of your body and into your bloodstream, and even into your brain. And so there are a lot of concerns about diseases and illnesses that these ultrafine particles can cause.
Gonzales: According to the UCLA Center for Health Policy Research, children who live in Marta's neighborhood of Boyle Heights are twice as likely as the state average to to go to the hospital for asthma.
Hricko: Then we also know that adults exposed to this traffic-related pollution are more likely to get strokes, possibly more likely to even develop diabetes, there are some new studies, and also they're more likely to get cardiovascular disease.
Gonzales: According to new research from the EPA, more people die prematurely in L.A. County from air pollution than in any other urban area. In 2005, that was more than 5,000 people.
Researcher [to resident]: Have you seen any cars that made it go up?
Gonzales: Researchers from USC have been working with community members to measure the levels of those ultrafine particles from diesel exhaust. We went with them one evening at rush hour to see how high the numbers climbed. The highest, more than 70,000. Compare that to an indoor level of about 1,000.
Leticia Andrade/Resident[dubbed]: Obviously, living in Boyle Heights for more than 20 years, one can tell without the need of a scientific study that there's a lot of pollution. You can see it. You wake up, and the day is really gray, and it only gets worse in the evening. And it smells. You feel that you can't even breathe.
Gonzales: Boyle Heights is 94 percent Latino, and traditionally, it's been a place without much political power. But that's changing.
Vilchis: We have to develop a policy that helps the city and the residents make the right choices in terms of what businesses come here.
Gonzales: Leonardo Vilchis is working with a new initiative, Clean Up Green Up, that aims to turn Boyle Heights and other L.A. neighborhoods from toxic hot spots to green zones.
Pastor: You know, we're at a significant turning point. The environmental justice movement has made a really big turn from protest to proposition, from pointing out what's wrong to pointing a path to what's right.
Gonzales: Clean Up Green Up doesn't want to close businesses, many of them small neighborhood operations. They plan to work with them to help them clean up their act.
Vilchis: It's about investing in those businesses and making them green.
Gonzales: That idea appeals to Dina Cervantes. Her family owns a metal manufacturer in the San Fernando Valley.
Dina Cervantes/Business Owner: The part that we're really excited about, where a business like ours would be able to kind of show up and say, you know, "We want to do our part, you know, to, you know, be greener and cleaner, so what's available?"
Gonzales: Cervantes says she heard about the program and wants her family's company to be involved.
Cervantes: We decided to jump on because, I mean, when we live in this community as well, and also because we wanted to make sure as they're moving forward with the campaign, that they're also including businesses and, you know, taking us into account, and also providing a way to support existing businesses.
Gonzales: For now, a green Boyle Heights is still more vision than reality, but there are some encouraging signs. At the ACE Beverage Company, thanks to an EPA grant, 25 diesel trucks meet new stricter emission standards. And remember those schools that are so close to the freeways? Seven of them, including the school Marta's children attend, will receive air filtration systems in a pilot program. They're small steps for big problems, but Boyle Heights residents hope it's the dawn of a new, cleaner day.
Pastor: And we have done a tremendous job in Los Angeles and in California of lowering the air pollution, the particulate matter that affects us all. We've done a tremendous job of restoring parts of the Los Angeles River by making a commitment to it. We've taken places like Downtown Santa Monica and Oldtown Pasadena and cleaning them up and recycling them and making them great places for people to come and spend time. We can do this in Boyle Heights as well.
Gonzales: For SoCal Connected, I'm Vince Gonzales.